Education
Universities
Veterinary and Pharmaceutical University in Brno
University type: state
The university was founded December 12, 1918 on the basis of the Vienna University of Veterinary Medicine . The first rector of the university became Edward Babak . The University has at its disposal area of 13 hectares northeast of Brno, in 1919, began research activities 18 departments and clinics , of which at the time consisted University .

In 1939, training in EFU Brno, as in other universities of Czechoslovakia , was suspended , however, some clinics and departments of the University continued research work and provided necessary veterinary care as a veterinary clinic .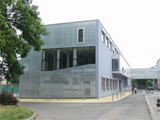 Post-war period can be characterized as a period of renewal and reorganization of the university. Was founded several new laboratories and offices (Laboratory of Infectious Diseases , Laboratory of Pathological Morphology and Physiology , Department of veterinary medicinal products for research , Department of Dietetics and zoogigieny ) .
Orientation Czech agriculture in the Western European market in 1973 resulted in a change in the structure of the University and to the creation of several new departments .

In 1991, the Faculty of Pharmacy was founded in 1994, the university was renamed Veterinary - Pharmaceutical University Brno.
Currently, the university comprises three faculties:
Veterinary medicine
Veterinary Hygiene and Ecology
Faculty of Pharmacy
Entrance examinations are held in mid-June and include a written test in chemistry and biology. Upon admission to the Veterinary - Pharmaceutical University admissions committee takes into account the evaluation of the entrant in the certificate of secondary education.
Ask question
Order call
Video:
© EuroEducation, 09.08.2008
Update: 21.01.2017