Accomodation
Accommodation in Prague
Depending on the needs of our students, we offer them several types of accommodation. It is about living in a private apartment with a Czech family, student dormitory, hostel hotel type, as well as an independent rental apartments. In Prague, rental prices for all accommodation types do not differ from the prices in Russia or Ukraine.
Budget Accommodation

Student Residence Rogachev
Student Residence located on the street Rogachovka Rogachev in Prague Prague 3.

Hostel has a five-story building that has an elevator. On each floor there is a 5 to 7 bedrooms, and can accommodate two or three students. On each floor there is everything necessary for life: kitchen, bathroom, toilet.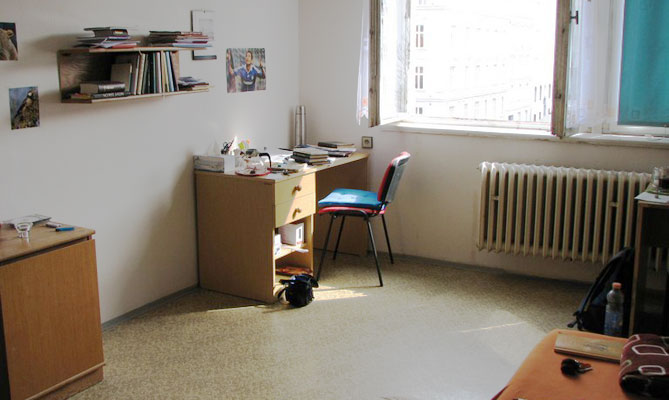 Specifically for their students, the hostel offers free internet.

Rogachevka hostel is in a quiet part of Prague's historical district called Zizkov. Near the hostel is a small park. Just at the end of the next street is the city park Vytkiv, which besides, you can also stay active in sports, including roller skates, skateboard.

Cost of living per month 3,300 сrоon (about 135 euros).

http://www.rohacovka.cz/index.php


Hotel Fortuna Rhea 3*

Hotel FORTUNA RHEA is located in a quiet area of ​​Prague - Malešice.

Especially for longer stays, were equipped with the upper floors of the hotel. For this 24 rooms available in the form of so-called blocks: two rooms that have their own kitchen, bathroom and toilet. These rooms are designed for one, two or three.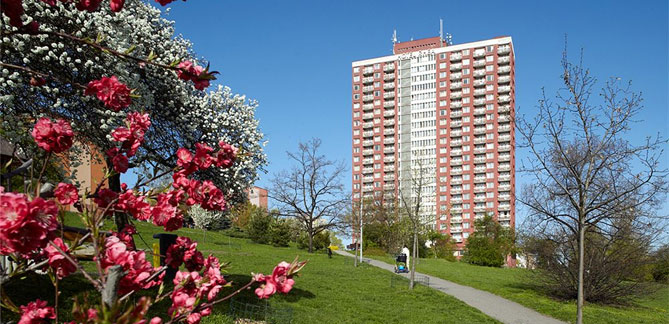 At the hotel there is a hairdressing salon, beauty salon, laundry, public telephone, conference rooms. It is also possible three meals at the restaurant or at the snack bar cabin.

Possible free Wi-Fi Internet connection in the public areas of the hotel.

Cost of living per month 4,700 kronor (about 190 euros).
http://www.hotelfortunarheaprague.com/ru/



Accommodation middle price category
At this price point , students tend to use the opportunity to co- hiring 2 or 3-room apartments . In this case, we can help you find a suitable apartment . Recommend that students choose their Czech neighbors , so that they in their spare time to speak Czech. Like the best option of course, we see the possibility of living in Czech households . In Western Europe it is normal. Young student is partially included in the rhythm of the family, " Czech parents " to look after him and the foreign student has the opportunity to immerse themselves in the Bohemian lifestyle and culture .

Our agents have visited all of the proposed accommodation and choose the best option to suit your requirements . We choose home in favorable areas , within close distance to public transport ( no more than 5-7 min walk) and not more than 30 minutes from the school and the town center .


Accommodation high price category

For students who wish to live with increased comfort, we can offer for rent a studio or one-bedroom apartment.

We can also offer a luxury apartment in Balu relax club, which is located 5 minutes from our school.(http://www.balurelax.cz/)