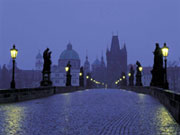 Prague — Czech capital . One of the most beautiful cities not only in the Czech Republic, but also in Europe . Miraculously in Prague combines architectural styles - from the early Middle Ages until the present time. Amazing monuments and a great location above the Vltava River Prague mark stamped on the unique charm and atmosphere, which is so admired all her visitors .

Prague - the only city in the world , needs no introduction . Prague is one of the most beautiful and romantic cities in the world . "The City of a hundred spiers ", so called Prague, began its history in the tenth century and for many centuries was the seat of Czech kings, princes , emperors and presidents. Panorama countless roofs, domes and towers, cast gold in the sunset , just be full of magical charm winding streets of the old Jewish quarter , and everyone here will be permeated with the breath of history .

Prague today - it's fun, cheerful city that has found its way and looks to the future . From all over the world flock here , young people , tourists , street musicians and traders . Many stay for long, open cafes , galleries and shops. All of them hope that here, in the heart of Europe , realized maybe what previous generations have dreamed , and Prague will be for people of different backgrounds and all nationalities in our warm house cold world , an island of understanding and tolerance.